I discovered Haunted Memories portraits after clicking a link at The Horror Channel's web site. I'm a huge fan of ancestral photographs and collect old portraits that I pick up for pennies at yard sales and at thrift stores. I'm the family's official Keeper of the Photographs, so the first time I found Eddie Allen's Haunted Memories site, I cruised around for over an hour.
Haunted Memories portraits metamorphose as the viewer's point of view or perspective changes. Much more than a mere unsettling "eyes follow you" effect, Eddie Allen's Haunted Memories
really
change. Some photographs change from a prim old lady to a vicious vampire; in another, an innocent little girl morphs into a wicked werewolf.
Each portrait has its own back-story. Here's the verse for "Little Ruthie":
Little Ruthie, so untoward
Played with Grandpa's Ouija board
Since that night I must confess
Ruthie seems a bit possessed!
Most of that first enjoyable first hour on the Haunted Memories web site was spent viewing films that demonstrate the effect of each portrait. You can't experience the phenomenal effect Allen has achieved except by viewing the portraits' transformation in person, but you get a simulated experience by viewing the films. I provide a link at the end of this article so you can check out the film clips and get an idea.
Truly amazed at the high quality of the products (and their amazing effect), I contacted creator and artist Eddie Allen to ask for an interview. He graciously agreed. ~~Clara Chandler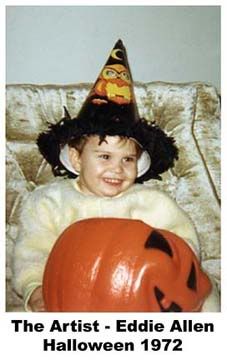 Who knew this sweet little boy would delight the world with his devilish designs?
Clara Chandler: Hi Eddie, and thank you for agreeing to this interview. First off, tell me a little about your background in horror. Surely Haunted Memories can't be your first horror venture?
Eddie Allen: Actually, this is the first horror-related business I've ever had. Prior to this I was just a Halloween fanatic who always went all-out to decorate the house for the trick-or-treaters. My inspiration came more from a love of Halloween in general than from being a fan of horror films.
CC: What are your favorite monsters and scary movies?
Zombies and vampires definitely rank at the top, but I am also fascinated by ghosts and specters. I tend to prefer movies that scare you on a psychological level rather than relying on tons of gore. It doesn't always have to be a visual that frightens the audience – just having the right sound effect at the right point can send chills down your spine!
My favorite scary movies include the aforementioned "Salem's Lot" (1979 Version), "The Haunting" (1963 version), and a little-seen, made-for-television film called "The Woman in Black." It came out on the BBC in 1989 and has one of the most cringe-inducing scenes you'll ever see in a scary movie. It is a slowly-paced ghost story but if you stick with it, it has a great payoff!
CC: Present company excepted, who's your favorite horror writer?
EA: My favorite horror author is Stephen King and my favorite horror book is (you guessed it) "Salem's Lot." It made a huge impression on me when I was a young boy.
CC: You obviously delight in the fun side of Halloween and all things scary. Tell us about Eddie Allen. How do you occupy yourself when you aren't creating masterpieces?
EA: I manage an old one-screen movie house in Seal Beach, California. It's called "The Bay Theatre" and it's been there since 1947. I get to make the schedule for our Classic Film series and I try to feature horror films whenever possible. The theatre lobby features a gallery of my portraits during those screenings, just to make it a bit more creepy for our guests. (Learn more about The Bay Theater: http://www.baytheatre.com/table_page.htm)
CC: Although I love antique photographs, I think most people feel a little creeped out by them. Who is "Granny Glick" and how did she inspire Haunted Memories portraits?
EA: "Granny Glick" is the first changing portrait I designed. Her name is a tribute to Stephen King's "Salem's Lot," which featured a boy named Danny Glick who later became a vampire. I gave her the same kind of glowing yellow eyes and curved incisors that the vampires had in the original "Salem's Lot" mini-series from 1979. That show scared the hell out of me for years!
CC: Whose portrait was your very first Haunted Memories sale? Do you remember who purchased it?
EA: I offered my first two portraits for sale on eBay simultaneously. They were "Granny Glick" and "Grandpa Esbat." Two different customers won them and they are both going to receive a nice gift in the coming weeks.
CC: Describe for my readers how the portraits "behave"?
EA: The portraits change depending on your perspective. For example, if you stand still, they do not change at all. But when you walk past them, either left to right or right to left, you will see them transform into hideous creatures of the night or macabre apparitions! It is a truly amazing effect which must be seen in person to be truly appreciated (or un-appreciated if you weren't expecting it!) No batteries, electricity, or special lighting is required.
CC: As compelling as your artwork is, I have to admit the verses are what kept me exploring your site my very first visit. How did you come up with the clever back-stories for each of your creations? (And if you don't already, you should definitely attach a copy of the poem to each portrait).
EA: Thanks for the compliment! You're absolutely right about including the verses with each character. I will do that at some point, but I guess for now keeping them on-line will provide incentive for people to continue visiting the website.
From an early age my father instilled in me a love of the English language. My mother was a poet, as was my grandfather. In college I majored in English with an emphasis on Creative Writing. I guess it finally came in handy! For this project, I suppose I was most inspired by Edward Gorey's "The Gashlycrumb Tinies" – a macabre book of verses and illustrations which cleverly depict the impending deaths of 26 children – each one named for a letter of the alphabet. If you like my back stories, you'll love that book!
CC: How many different portraits are currently available?
EA: There are currently 33 different character portraits available for purchase. I just re-released "Cousin Claudia," who turns into a cat creature. She was available for about a month in early 2004, but I wanted to work on her a bit more. Now I am happier with the way she looks, so she's back on the site.
CC: Do your customers tend to prefer certain types of monsters over others? I find the skeleton portraits especially compelling.
EA: It's always different, but I know that the child characters always get a strong reaction - one way or another! I tend to like the kids because they are supposed to represent "innocence" and thus it is even more creepy when they turn monstrous.
CC: Do you normally gravitate toward creating one type of creature over the others, or do particular portraits lend themselves more naturally to, for instance, vampires over werewolves?
EA: I am partial to vampires simply because they were my first real fear as a young boy. Zombies are also extremely disturbing to me. I tend to like monsters that are still clearly humanoid with their human facial features still visible, as I think they are much scarier that way.
CC: I know you love the whole "family," but between you and me, who are your favorites?
EA: It's hard to choose one because they are all my "babies," but I am especially proud of "Uncle Harry" (the man who gets an axe embedded in his noggin). He is my most recent portrait and I think he turned out very well – for a corpse! I also had a lot of fun changing Da Vinci's "Mona Lisa" into a vampire. I enjoyed making her hands more "veiny" and bony, as well as turning the background into a creepy moonlit nightscape. You can almost feel the chill night air when you look at it!
CC: I'll bet Haunted Memories portraits hang in some interesting venues. What are some places where your art is displayed?
EA: Well, I've lost track of how many haunted house mazes have my work, but my portraits are featured in Hollywood's exclusive magician's club, "The Magic Castle." They are also featured in "Jekyll and Hyde" – a spooky-themed restaurant in New York.
CC: As far as you know, where's the farthest away a Haunted Memories portrait hangs?
EA: In addition to being scattered all over the U.S.A., my "Haunted Memories" hang in Sweden, Japan, England, and the Ukraine. I'm sure there are other places, but I can't remember them all.
CC: Are all your Haunted Memories portraits sepia or black-and-white, or have you created any full-color masterpieces? Do you have plans to produce color portraits?
EA: I have two color portraits available. There is an evil clown painting called "Terrible Timmy" and there is my scary version of the Mona Lisa titled "The Da Vinci Corpse." I have also done one full-color photo based image, but that was for a private custom job. I do hope to do more with color painting-based images in the future.
CC: Where can folks purchase your work?
EA: You can purchase my work on-line at www.hauntedmemories.com and I also offer them on eBay from time-to-time.
CC: Do you offer package deals of entire families or multi-generational collections?
EA: I have not done so as yet, but that is a good idea! Aunt Polly, Uncle Percy, and Little Thomas all go together as husband, wife, and son, but the collection is really one large family – the Esbat clan.
CC: I read on your site that you no longer offer frames. Do you endorse or recommend a particular company that creates/provides antique-looking frames to compliment your artwork?
EA: I usually get my frames at Aaron Brothers, a California-based store. I think Michael's is nationwide and they have some good frames, as well. There is another place called www.americanframe.com. I heard that they have some good deals on antique-style frames.
CC: Do you take your art "on the road?" Can folks go to, say, a horror convention or similar-themed show and see your work in person? (I can't imagine you showing up to a convention and having to take anything back home!)
EA: I try to do several conventions each year. My next one is the
World Horror Convention
in San Francisco, which runs from Thursday May 11th through Sunday May 14th, 2006. I will also be displaying my work at the
Fangoria Weekend of Horrors
convention in Burbank on June 2nd, 3rd, and 4th. There is also the huge
Comicon
event in San Diego July 20th through 23rd, 2006.
CC: Are there other devious products cooking up in that fertile brain of yours? What's on the horizon for 2006?
EA: I have recently released 10 of my characters as 5x7 collector's cards and I am very pleased with how they turned out. They were produced on a very fine lens that preserves all of the spooky details and they look just great! I sell them for $14.99 each and for a limited time I will offer a special discount for those who purchase the entire set.
CC: Eddie, thank you for your cooperation. I think you create terrific art and it's been a pleasure picking your brain. I look forward to "meeting" your latest relatives!
EA: I want to thank "The Horror Library" for interviewing me. I hope it has been interesting and informative. I know I enjoyed it immensely!
Clara Chandler: Oh, one final question… if Cthulhu exists, what would you say to him when he reawakens?
Eddie Allen: "You're much better looking in person!"
Eddie Allen's Haunted Memories Site: http://www.hauntedmemories.com
Other Links:
The Bay Theater: http://www.baytheatre.com/table_page.htm
Jekyll and Hyde's Club & Pub: http://www.jekyllandhydeclub.com/home.htm
© 2006 Clara Chandler - All Rights Reserved